Congratulations to all our fund raising walkers
Quite a few of our guests are often raising money for charity, usually by walking up Snowdon or doing the 3 Peaks Challenge. Raising money for so many worthy causes, we feel it only right to celebrate their achievements and promote their charities here.
Brian Robins faces the challenge for Help for Heroes
My name is Brian Robins and I am a retired Health Inspector 65 years of age.I have been a member of Hillingdon Golf Club for over 20 years and each year the incoming Captain announces his charity for the year. Eddie Cole, as Captain chose Help For Heroes and as I had served in the Royal Navy in the 60's I was more than adamant to support his charity in any way possible.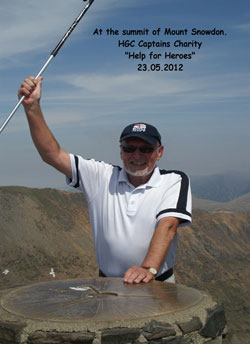 A couple of years ago I had a full knee replacement it was a difficult operation because I did not have a kneecap. Thanks to the brilliant work by my Surgeon Mr David Houllihan-Bourne at Mount Vernon it was a complete success. My other knee is riddled with Osteo Arthritis also, so from out of the blue I decided I would climb Mount Snowdon in aid of the charity.
Through Glyn Peris, I hired a personal guide for the climb, Stu Stanley an expert Mountaineer from North Wales. I totally underestimated the task ahead because it was not a walk in the park but more a scramble up rocks in very hot weather. I had decided to take a golf club and ball with me in order to drive the ball from the summit. It was only after doing this that I was reliably informed by Summit staff and my guide that this was the first time anyone had done this. We completed the climb in just over 8 hours on the 23rd May. Among my sponsors was Mr Houllihan-Bourne who was pleased that I was attempting the task. So far I have managed to raise approximately £1000.
The Made Simple Three Peaks Challenge Team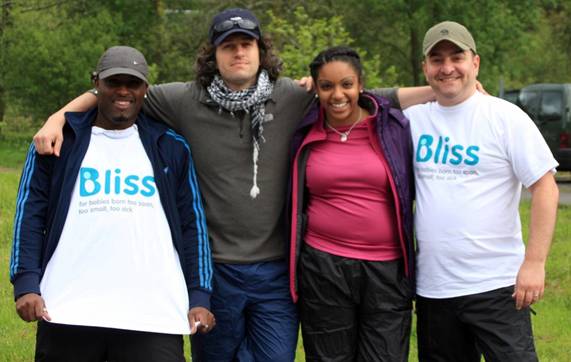 Richard, Stan, Charlene and Gavin arrived on the evening of Sunday 29th May after their gruelling challenge of summiting Ben Nevis, Scafell Pike and Snowdon in 24 hours.
They underwent this task in aid of the Bliss Charity - the only UK charity that helps care for sick and premature babies. Click here if you would like to support their cause. "Last weekend 45 of us did the Three Peaks Challenge in aid of Bliss, where we drove 1500 miles and climbed the three highest peaks in the UK, Ben Nevis, Scarfell Pike and Snowdon. We encountered -17 C, snow, hail, lots and lots of rain and gale force winds... it was tough but brilliant.  Now we are left with many blisters, aching muscles and some wind burn on the small bit of face that was exposed."
Ian Greaves and David Pendlebury
Ian and David will be taking part in a charity walk up Snowdon on Sunday 12th June to raise money for Neurofibromatosis. It is one of the most common generic disorders that causes tumours to grow on the nerve endings in any part of the body. There are over 25,000 people in the UK who are affected by the condition and as yet, there is no cure.
Mairee Locket
Mairee will be joining us in September 2011 and is taking part in the Snowdon Challenge in aid of Action for Children.
Action for Children is the UK's leading Children's Charity - 80% of the UK lives within 10 miles of at least one their services.  Click here if you would like to sponsor Mairee.
Sarah, Louise, Gail & others
A group of friends are joining us for a guided walk up Snowdon in July 2011 to raise money for the National Autistic Society.
Michelle & Wendy
Two friends who will be taking part in the Snowdon Challenge in June 2011 to raise money for the Marie Curie Cancer Care charity. Their Just Giving address is: www.justgiving.com/teams/MicheleWendy
Matt Cook
In September 2010 Matt stayed with us during his mammoth challenge of cycling from Lands End to John O'Groats, stopping off along the way to climb the three peaks!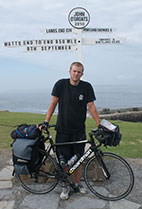 He was doing it in aid of Breakthrough Breast Cancer in memory of his grandma who died earlier this year aged 80, his aunt in Australia who died 2 years ago aged 61 and a close family friend who was his nephew's godmother who died last year aged 50, all from breast cancer.
He started from Land's End on Sunday 29th August and arrived in John O'Groats 12 days later on 9th September having riden 955 miles, an average of 79 miles a day. He started back the next day and aimed to get home to Portsmouth on Monday 26th September (29 days in total), having done a total of just over 2,000 miles. On the way back he has climbed Ben Nevis, Scafell Pike and Snowdon as well. A few mechanical problems en route which he has managed to sort out. He started off with a friend but he only lasted until Birmingham on the way up. He hopes to have raised around £1,300 in total. His Just Giving address is: www.justgiving.co.uk/matt-cook0. Quite an awesome achievement.